Before we can begin to address issues affecting turtle dove outside the UK, we must first establish which other countries turtle doves that breed in the UK use, and then carry out ecological research to better understand what they need when they are migrating and on their wintering grounds.
Tracking turtle doves from Suffolk to Mali
In July 2014, RSPB scientists satellite-tagged a turtle dove, named Titan, in Suffolk. This bird has been tracked across Europe and North Africa to its wintering grounds in Mali, and back again. By following Titan, we have began to learn important information concerning his migration route, staging areas and wintering grounds, which we hope to add to with further tagging in the coming years. Read more about Titan here.
Wintering ecology research in Senegal
In winter 2014/15 RSPB scientists began working alongside local scientists from the Senegalese conservation partner Nature Communauté Developpement to carry out research on turtle dove wintering grounds in Senegal. This was the start of an exciting research project  to understand how to protect turtle doves when they are in Africa.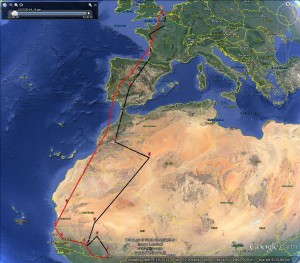 Photo: turtle dove researchers from RSPB and Senegalese conservation partner Nature Communauté Developpement in Senegal, photo credit – Chris Orsman