Conservationists, farmers and wildlife enthusiasts have rallied to the cause of one of England's most threatened birds, the turtle dove, which has seen its worst year yet.
The farmland bird – forever associated with the festive season through the words of the seasonal song 12 Days of Christmas – is one of the fastest declining species in the country. Its numbers have crashed by 85 per cent since 1995 according to the State of the UK's Birds report released last week, and sightings this summer were the lowest ever.
The British Trust for Ornithology published its latest Bird Atlas earlier this year which revealed that the turtle dove's range has shrunk dramatically by 52 per cent between 1970 and 2010.
But this year has seen a campaign to save the turtle dove take off in a big way. Moved by the plight of the species 1,250 people rang in to the Operation Turtle Dove hotline in 2013 to report sightings, helping conservationists build up a vital picture of where the birds are nesting and foraging. The top county for sightings was Norfolk, closely followed by Suffolk and then Kent, Essex and Cambridgeshire.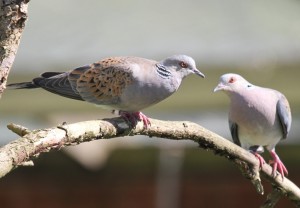 Operation Turtle Dove, a partnership project between the RSPB, Conservation Grade, Pensthorpe Conservation Trust and Natural England, was launched in May last year and since then advisors have been busy visiting farms in the South and East of England to help them put in place measures to help turtle doves bounce back.
A review of the campaign to date has revealed that 64,000 hectares of farmland now has turtle dove measures – an area more than one and a half times the size of the Isle of Wight. Advisors have helped unlock £16million worth of funding for farmers to carry out agri-environment schemes which will benefit the birds.
Simon Tonkin, farmland advisor for Operation Turtle Dove, said: "Although we sing about turtle doves at Christmas, in fact they are in their African wintering grounds at this time of year.
"But closer to home we believe it is the loss of arable plants from our countryside which is having a major impact on them. These birds spend the summer in England where they rely on wild plants for food – but the way we farm today has meant there is often no room for them at the edge of fields.
"Turtle doves are a symbol of enduring love from Chaucer to Shakespeare and their unmistakable purr is an intrinsic part of the English summer. We must act urgently to save these beautiful creatures now while we still can – because if we don't they will disappear from England entirely within a generation.
"It has been truly heart-warming this year to see the way the public and farmers have rallied to their cause by putting conservation measures in place, raising money and spreading the word. Together we may be able to save this very special species."
Concerned bird lovers have stepped up to help out Operation Turtle Dove. A group of friends have begun training for a gruelling fundraising effort in March when they will walk 300 miles through the traditional summer range of the turtle dove from East Anglia to the North East (see http://dovestep.wordpress.com for more information).
For anyone looking for late Christmas gift ideas wildlife artist Matt Sewell has created a series of prints which he is selling to help fund turtle dove conservation while artisan chocolatier, Callie Higginbottom has created a range of turtle dove themed treats to raise money. Another option is an RSPB Good Natured Gift package which helps to provide vital funds to support the project.