Wildlife enthusiast, Tristan Reid is a supporter of Operation Turtle Dove and has pledged to run 1000 miles during 2014 in aid of the Turtle Dove. Here he talks about his reasons for taking on this challenge…
The last Passenger Pigeon died in Cincinnati US Zoo on the 1st September 1914 – her name was Martha! This is a sad reminder of the massive and avoidable impact humans have on this fragile planet. The Passenger Pigeon went from being one of the most numerous bird species in the world in the 19th century to becoming globally extinct in the 20th century! The reasons for the bird's demise are linked to habitat loss and hunting!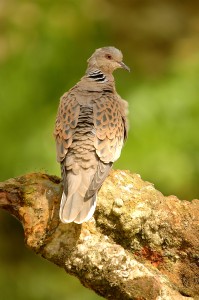 Roll on one hundred years and here in the UK we are facing a similar situation with the once common Turtle Dove. This species has declined by a staggering 93% since the 1970's. This species was once common throughout much of England and it is now restricted to very small areas of East Anglia and the south-east!
The reasons for this rapid decline run parallel to the Passenger Pigeon; habitat loss and hunting across its range. The Turtle Dove could be heading the same way as the Passenger Pigeon!
2014 will be the 100 year anniversary of the Passenger Pigeon became extinct. We should not forget this terrible event and we should not forget Martha who was the last of her kind.
We should also not ignore what is happening to 'our' Turtle Doves!
For this reason I plan to run a minimum of 14 marathons in 2014 in memory of Martha and in order to raise awareness of the plight of the Turtle Dove and to raise much needed funds specifically for habitat restoration/creation carried out by Operation Turtle Dove. In fact I pledge to run a minimum of 1000 miles (including marathons and training runs) during 2014 for Martha! I will log each mile using my Garmin GPS watch and will upload to Strava and my website (www.theinkednaturalist.co.uk) so that people can keep track of my progress!
You can support Tristan's challenge and the project at www.justgiving.com/1000milesinmemoryofMARTHA
Related links:
Article in News & Star www.newsandstar.co.uk/news/cumbrian-man-to-run-1-000-miles-to-help-save-turtle-dove-1.1112444
This post originates from Tristan's justgiving page.