Laurinda Luffman, RSPB chair of a migrant bird fundraising group, talks about a recent visit with farmer John Ford, to see his work to support turtle doves in Sussex
Most of my days are office-based at the RSPB headquarters in Sandy, so it's always a treat to be able to visit projects and meet the people making a difference for our wildlife on the ground.
In June, I was therefore delighted to travel to the Adur Valley of Sussex, where a group of farmers are working to support farmland birds through countryside stewardship schemes.
John Ford was introduced to the stewardship schemes by another farmer when he and his wife, Alison, moved to Priors Byne Farm in 1993. Their 500-acre farm is managed conventionally, with a mixture of livestock (Sussex cattle and sheep) and arable crops. But with areas of his Weald land tricky to cultivate, John says the farm is ideally suited to setting aside margins and fallow land for encouraging wildlife.
Along with RSPB Conservation Advisor, Bruce Fowkes, John shows us a field edge strip where he's broadcast a wildflower seed mixture. With "loads of yellowhammer and nightingales" around these fields, John says he often talks a stroll here
in the evening when it's getting dark to admire the birds and just "sit and listen".
And there's another bird John is especially looking out for. The wildflower mixture John's sown – containing plants such as black medick and birdsfoot trefoil – is a special variant designed for turtle doves. John's pleased to be doing all he can to support the doves in this part of Sussex, one of the remaining strongholds for this threatened species.
Bruce discusses with John how turtle doves like areas where there are bare patches of soil among low-growing seed-bearing plants. Bruce's father is a farmer, so he easily slips into the farming lingo as he and John discuss the techniques and machinery used to managed this strip of land.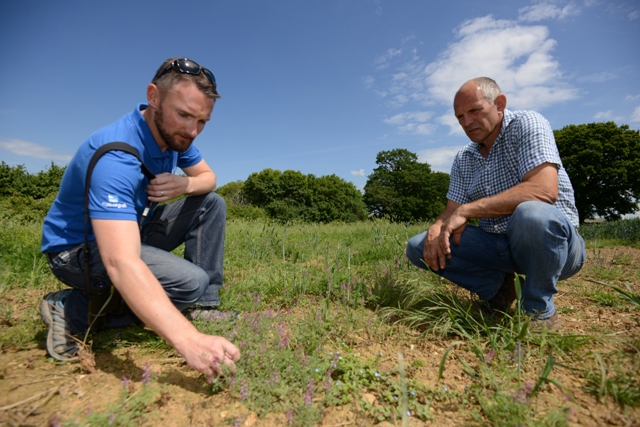 On a lovely sunny day in Sussex, I admire the scenery and listen to their talk, enjoying the feeling that these two men know what they're about and are doing all they can to support the turtle doves who fly all the way from Africa each year to breed on John's land. And it's lovely to meet a farmer who, as well as providing our food, is dedicated to ensuring birds and wildlife are catered for on his land. My only disappointment for the day is that the doves neglect to make an appearance for the hour I'm there. But that's nature for you!
In the photo, farmer John Ford and RSPB Conservation Advisor, Bruce Fowkes discuss the best habitat to support turtle doves breeding on the Sussex farm.