Guest blog by Ali Bennett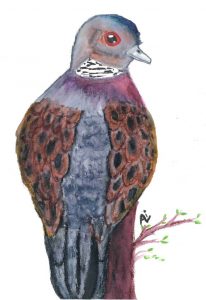 The turtle dove was once a central part of the British countryside yet it is scarcely found nowadays. I've never heard a turtle dove. In fact, I've only ever seen one in flight and that was a few years back. It saddens me that this beautiful species could vanish completely from the British countryside.
Turtle doves have featured in artwork since the 13th century. A symbol of true love, its call was celebrated in the bible. As a symbol of hope and peace, turtle doves were referred to in twelfth century writings.
An example of how turtle doves have been part of art throughout history is in the 15th century painting Botticelli's portrait of Giuliano de Medici, 1478. Painted after his death, the turtle dove in this painting symbolises mourning (read more about this painting here)
From a historical piece to modern street art: Artist ATM paints birds threatened with extinction as murals on walls across London to Bristol, Poland and Norway, and has depicted the turtle dove in his work.
I am using my art and creativity to help generate awareness around nature conservation and threatened species.
Ali Laura Artistry – Cards for Conservation, where my artwork is printed as a variety of cards donating 10% from each sale to help a threatened species or cause close to my heart, the first being Operation Turtle Dove.
Ali Laura Artistry – Cards for Conservation can be purchased from: alilauraartistry.bigcartel.com  & Norwich Gift Emporium: norwichgiftemporium.co.uk