Jos Ashpole
Turtle doves in decline
Spring is now certainly on its way. Blossom is starting to appear in our hedgerows and it won't be long until the wintery greys make way for the vibrant greens and warm yellows of spring and summer. This can mean only one thing – the turtle doves are on their way!
The UK population of turtle doves is just a tiny fraction of what it was in decades gone by, and their strongholds have become ever smaller, now mainly covering just south-east and eastern England. Yet these birds remain a strong part of our cultural and natural heritage. For many people, spring just wouldn't be spring without the soft purr of the turtle dove and Christmas wouldn't be Christmas without at least two turtle doves.
Taking action
Operation Turtle Dove is working with farmers and other land managers to ensure that when the turtle doves return from their epic migration all the way from sub-Saharan Africa, it's to a landscape where they can find food, water and a place to nest. But we can't do that without the support of generous partners and donors.
Through their charitable donations programme, Animal Friends Pet Insurance, is the latest in a line of generous donors to support our mission to reverse the fortunes of this beautiful bird.
"The current crisis in British nature is something that we all need to pay attention to and take action to halt. Turtle doves are an iconic part of our countryside and we are honoured to be in a position to help the RSPB as they try to help reverse their decline" explains Mr Westley Pearson, Managing Director of Animal Friends Pet Insurance.
To date, Animal Friends Pet Insurance has supported over 300 animal welfare charities and has donated an astonishing £4,000,000 to these causes. It's fantastic news that they have chosen to support the RSPB and our work on turtle doves.
"Through our donation to RSPB, a member of the Operation Turtle Dove partnership, we, at Animal Friends Pet Insurance, continue to commit ourselves to helping vulnerable animals through our charitable donations programme."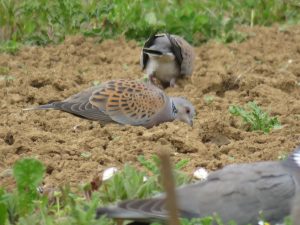 Looking to the future
Last year, Operation Turtle Dove was able to engage with over 120 land managers to provide vital habitats for turtle doves and provided supplementary food at almost 100 sites in south-east and eastern England. With the generous support of Animal Friends Pet Insurance and other partners and donors, we hope to build on the progress we made in 2018 and ensure the future for turtle doves in the UK is a little more secure.