As turtle doves prepare for their long journey south for the winter, we're celebrating the hard work that has gone on this year into making sure that these birds have places to feed, drink and nest during their time here in the UK.
People from south-east England, East Anglia and North Yorkshire have come together this season to deliver more habitat and food for turtle doves via agri-environment options, grants and voluntary measures. Here we provide just a snippet of some of the great news from 2019.
Providing extra food
Operation Turtle Dove recommends putting down a specially-designed seed mix to provide turtle doves with a reliable food source when seed out in the countryside may be hard to come by.
We've seen a fantastic take-up of this simple emergency feeding measure with over 40 sites in Essex, 40 sites in Kent and 14 sites in Sussex and east Hampshire putting out supplementary feed in 2019. That's not counting other sites in East Anglia.
Camera traps have recorded just how successful this simple measure can be; we have received a steady stream of fantastic images showing turtle doves using the supplementary feeding sites, which is great news.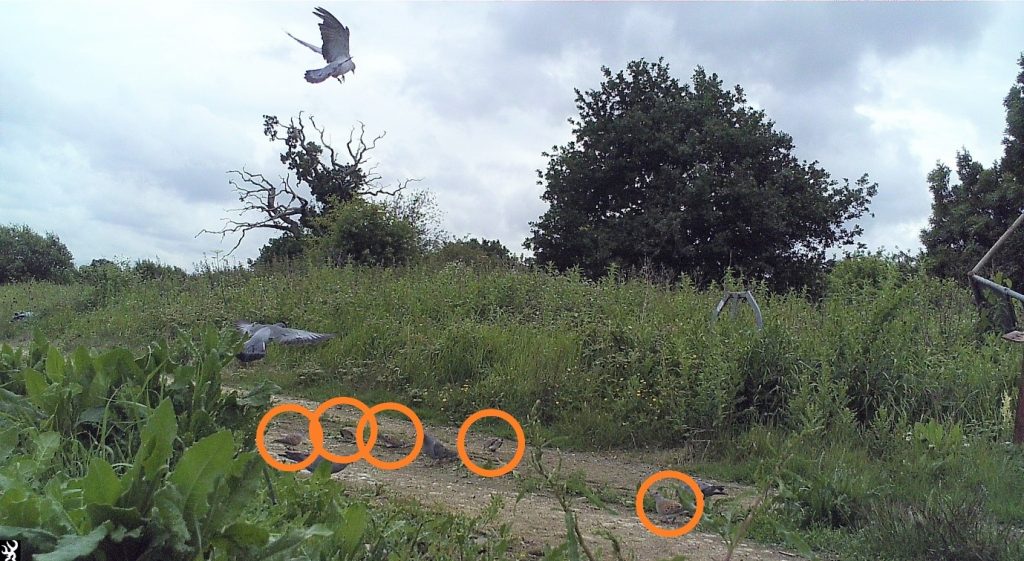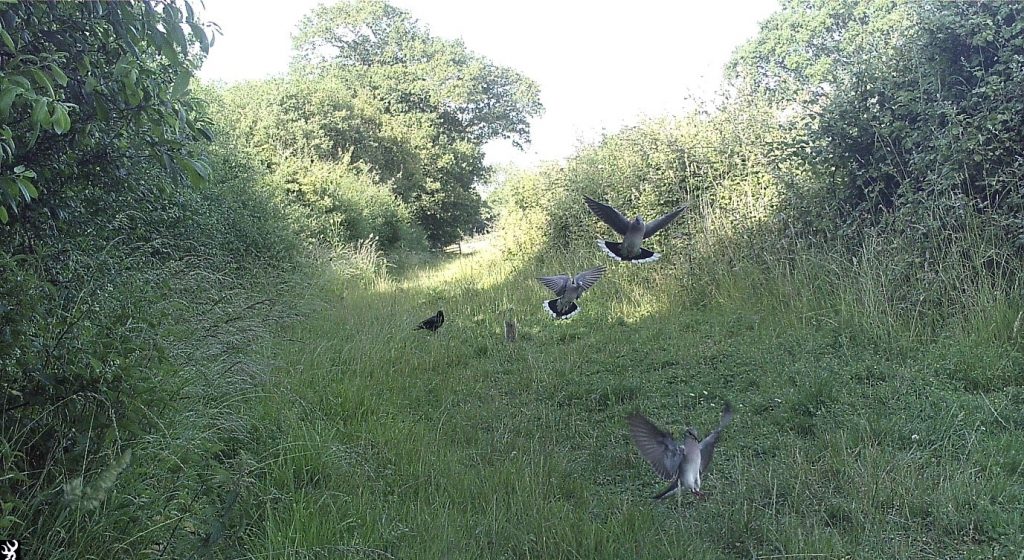 Juvenile sightings
The work that Operation Turtle Dove and others are doing to improve habitats for turtle doves in the UK has one main aim – to increase productivity of the birds, in other words to increase the numbers of juveniles produced. It's really good news then, that one project site in Kent recorded its earliest sighting of a juvenile turtle dove on 20 June this year, the earliest record before that at the site was almost 10 days later on 29 June 2017. Fledging a first brood this early would easily allow the adults enough time to raise a second successful brood.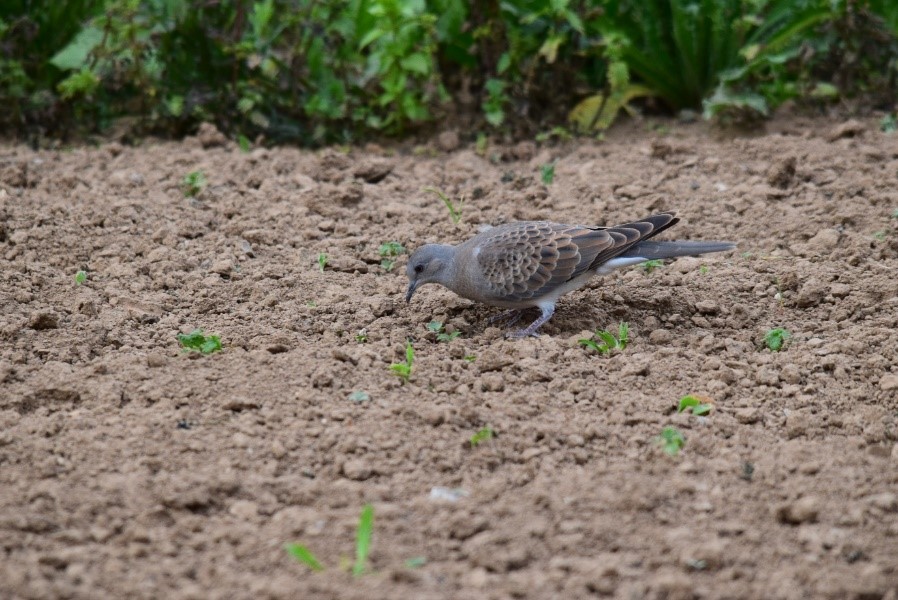 Turtle dove firsts
It's always brilliant to hear of sites that have had their first records of turtle doves in a while, and testament to the great work that is going on to create suitable habitat for these birds. One farm in our Marden 'Turtle Dove Friendly Zone' in Kent recorded turtle doves on the farm for the first time in 12 years!
Nicole Khan, RSPB Turtle Dove Conservation Advisor in Kent, who is doing so much to help turtle doves in the county was rewarded by the arrival of a pair of turtle doves at her office for the first time – the birds are using areas of scrub in the business park car park! The developers who own the business park are really excited about it and are looking to work with us to make the habitat better still for next season.
Meanwhile in North Yorkshire, Richard Baines of the North Yorkshire Turtle Dove Project reports that a small number of singing males returned to a few villages in the Howardian Hills where there were no records in 2018 despite many people looking. "We are all heartened by the resilience of our northern doves!" says Richard.
The long wait
In Kent, Nicole reports that turtle doves were initially slow to appear on a couple of farms that are normally good for turtle doves. However, after a nervous wait we managed to spot turtle doves at these sites using camera traps set out to monitor the supplementary feeding areas.
Richard experienced a similar situation in North Yorkshire. "We were apprehensive this spring after a slow start to migration in 2018. Surprisingly we had a mini rush of what looks like more birds arriving back in the first two weeks of May 2019 with more reports than the same period in May 2018. I was particularly surprised to find up to 10 birds in my 1 km grid square in Cropton Forest. In this monitoring square my survey results have gone from 2 singing birds in 2016, 4 in 2017, 1 in 2018 and up to 8 singing males in 2019. A fascinating trend…Overall it looks like the total number of reports for this season may be similar to 2018 but the number of locations looks like it may have increased."
Showing the love
Turtle doves have long been associated with love and fidelity, and thanks to the love that farmers, land managers, volunteers and staff show for these birds, vital habitat is being created.
In one important area for turtle doves in Sussex, the Adur Valley, five farms have sown new or additional bespoke seed mixes to provide turtle doves with the seed-bearing plants that they rely on for food. Elsewhere in Sussex, a dew pond has been de-silted, which will provide turtle doves with a place to drink and bathe.
In Norfolk, the Upper Wensum Cluster Farm Group is doing great things for turtle doves. Recent data has suggested that turtle doves are returning to a few specific isolated hot-spots within the cluster group. To fully support the returning birds and increase the chances of successful breeding, a mini-cluster has been created, which consists of five key landowners who boundary each other. Working with Operation Turtle Dove and Chrissie Kelley from Pensthorpe Conservation Trust, the group has chosen feeding sites which are close to restored ponds and feature correct nesting habitat. Each landowner has been provided with a camera trap to monitor successes and the health of the turtle doves. Eliza Emmett, the Upper Wensum Cluster Farm Group's advisor sums it up "The initial successes of the mini-cluster have been impressive and it re-iterates the importance of a bottom up, farmer led conservation project in the countryside". There will be more news from the cluster farm group in an upcoming blog, so watch out for that.
The North Yorkshire Turtle Dove Project has continued to sow new plots of turtle dove flower mix on farms using their North Yorkshire Turtle Dove Grant. One such farm in the Howardian Hills had a turtle dove seen on the farm from surveys in 2018 and now a new conservation plot has been created on the same farm, a great thrill for the volunteer who conducted last year's surveys.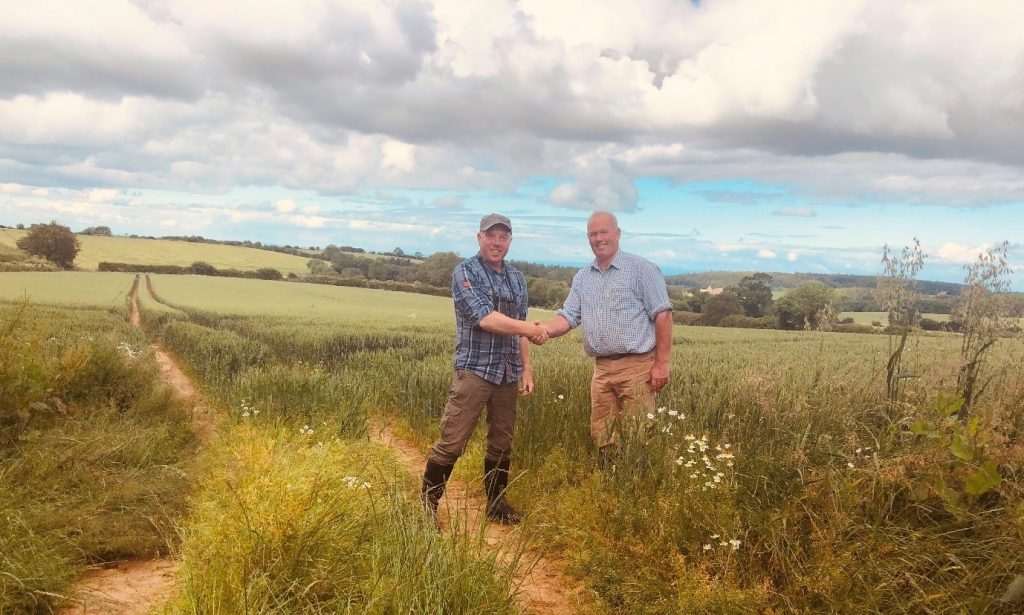 Talking to people can really pay dividends
Caroline French, RSPB Conservation Advisor sums it up really well – talking to people can really pay dividends. Earlier in the year, Caroline got talking to a couple while they were out listening for nightingales. She explained that she worked with Operation Turtle Dove and gave the couple her contact details. Three days later, Caroline received the fantastic news that a turtle dove had appeared in the couple's garden for the first time ever! They subsequently started supplementary feeding and put up a trail cam – the turtle dove continued to visit.
In Essex, Emma Stobart, RSPB Turtle Dove Conservation Officer, ran a joint event with Rosie Earwaker from Buglife looking at providing habitat for both turtle doves and shrill carder bees. Shrill carder bees like many of the types of plants we have in our turtle dove mix, including vetches, clovers and trefoil. Together they were able to demonstrate how providing habitat for one species benefits other species.
The enthusiasm that people show for turtle doves is so encouraging and it's great to hear stories of people learning about the birds and then doing their bit to help them. What we've been able to summarise here is just a snippet of what has been going on for turtle doves this year to provide these birds with places to nest, feed and drink. Caroline sums it up here: "…great enthusiasm shown by everyone with turtle doves on their land – people seem really keen to help".
A good year?
Protecting and creating places for turtle doves to feed, nest and drink in areas where the birds are present is the best way that we can help save them. Evidence clearly shows that replacing these lost resources in our countryside is the number one priority action for turtle doves in the UK.
It's too early to say whether 2019 was a good year for turtle doves. Once our amazing ground teams have had time to map and calculate the results from this year we'll be able to know for certain whether it was.
Operation Turtle Dove celebrates and applauds all those farmers, land managers, gardeners, organisations, communities and individuals working so hard for turtle doves this spring and summer – providing vitally important food and habitats. We are starting to see some local successes, and we can build on this in 2020 and beyond.
To keep up to date with all our turtle dove news, why not sign up for our newsletter?