Turtle doves have long been part of our culture. Most people will know them from the Christmas carol, 'The Twelve Days of Christmas', but they also feature in poetry, pop songs and paintings. With their beautiful plumage and patterns, turtle doves continue to inspire artists to this day.
Richard Baines of the North Yorkshire Turtle Dove Project, a National Lottery Heritage Fund project, brought together a selection of turtle dove inspired artworks in a fantastic exhibition. Some hugely talented artists contributed to the exhibition to raise awareness of, and funds for, this special bird.
The Saving Turtle Doves exhibition was jointly hosted by the 'Inspired by…' gallery in Danby near Whitby and the Low Dalby Courtyard in Dalby Forest near Scarborough. Featuring works by celebrated artists including Alan Hunt, Darren Woodhead, Jo Ruth and Jonathan Pomroy. The artists had pieces for sale in the exhibition and donated works to a silent auction, with the proceeds going to the North Yorkshire Turtle Dove project.
You can find out more about the exhibition here: https://www.northyorkmoors.org.uk/visiting/see-and-do/inspired-by-gallery/future/2019/saving-turtle-doves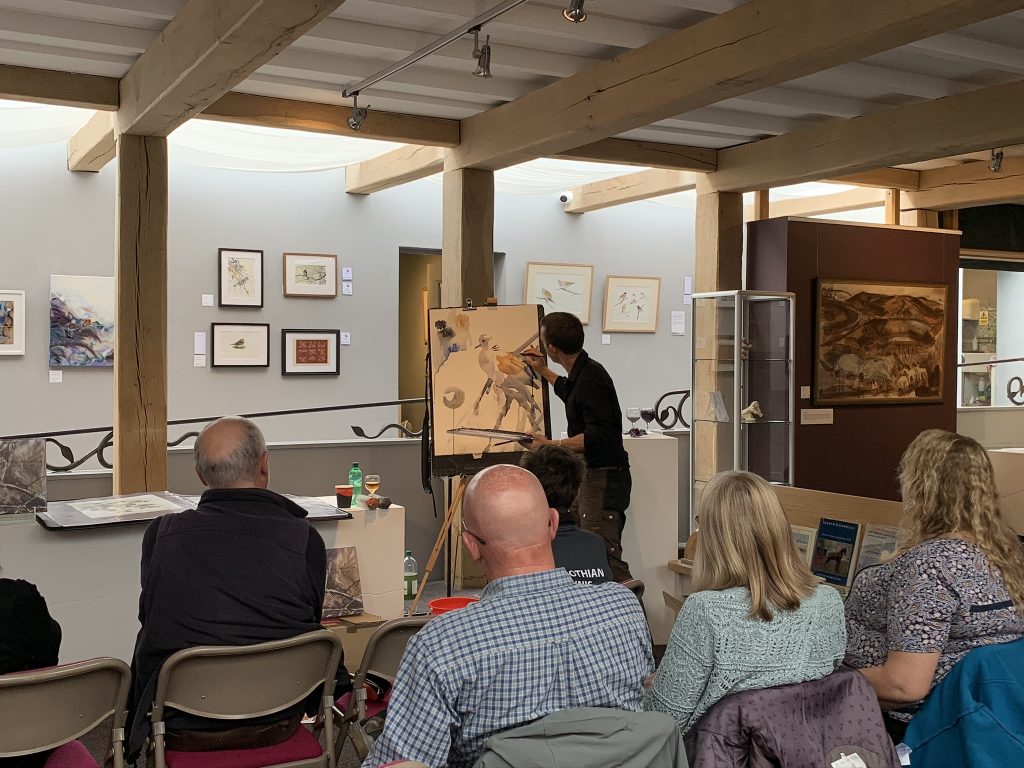 Silent auction
The exhibition featured a silent auction, giving members of the public the chance to own their very own piece of turtle dove art and support turtle dove conservation in North Yorkshire. The silent auction closed on Sunday 13th October but there's still a chance to own some turtle dove art by bidding for a celebrity 'doodle-a-dove' on eBay…
Doodle-a-dove
It's not just the artists in the gallery who were raising awareness and funds for the North Yorkshire Turtle Dove project. Celebrities have got involved too. More than 30 celebrities ranging from Strictly Come Dancing's Claudia Winkleman to Springwatch's Chris Packham have sent in turtle dove 'doodles'. These drawings are being auctioned on eBay, do head over to the site to check out the doodles and perhaps buy one for yourself – https://www.ebay.co.uk/sch/i.html?_odkw=doodle+a+dove&_osacat=0&_from=R40&_trksid=m570.l1313&_nkw=%22doodle+a+dove%22&_sacat=0.
 Celebratory reception
Earlier in October, the project hosted a reception at the 'Inspired by…' gallery in Danby to celebrate the exhibition. The reception also offered members of the public the chance to meet some of the amazing artists who contributed their work, and to bid on the artwork.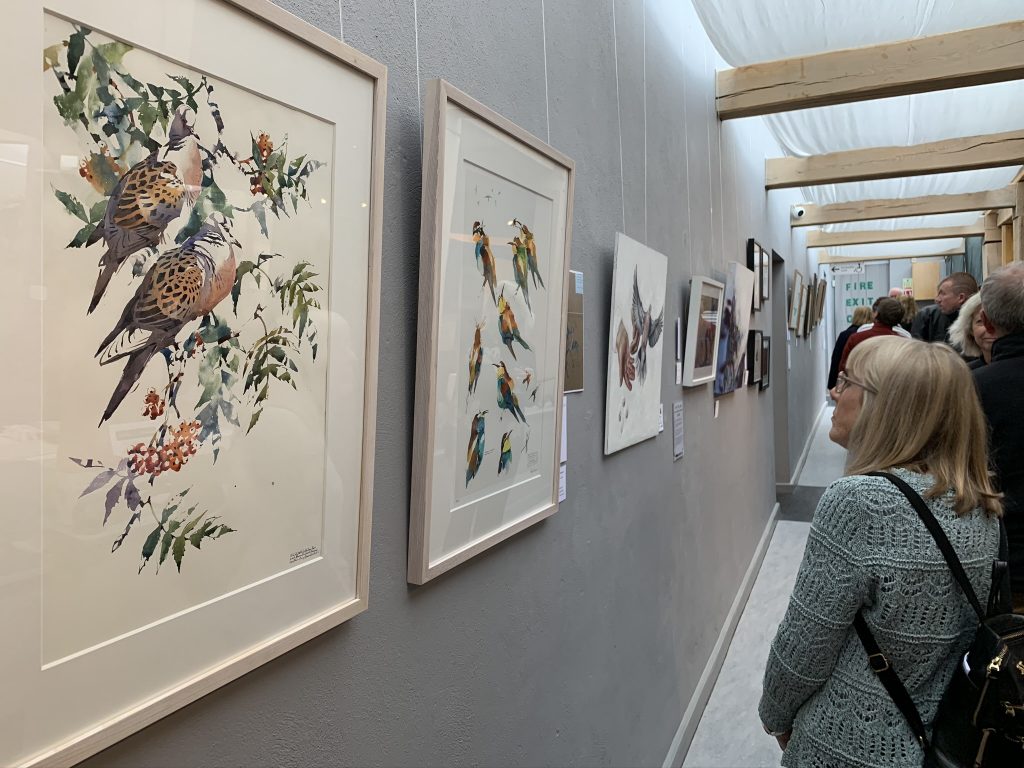 Protecting doves in North Yorkshire
The North Yorkshire Turtle Dove project is a National Lottery Heritage Fund project and is now in its third and final year of funding. The project covers some 100,000 ha in North Yorkshire, within which there are estimated to be 50-100 pairs of turtle doves. Richard Baines and his team of volunteers have been working with farmers to create suitable habitats for these special birds. They've not been doing it alone though, they've been working with Forestry England, the North and East Yorkshire Ecological Data Centre, RSPB, Scarborough Borough Council and the Howardian Hills Area of Outstanding Natural Beauty. They've also been involved in educational work to raise awareness of the turtle dove and its precarious situation. Funds from the silent auction will go towards ensuring the project continues once its three years of funding are over.
Art in real time
Renowned wildlife artist Darren Woodhead contributed two paintings to the exhibition and was on hand at the reception to provide a live demonstration of how he works. Working in watercolour, Darren creates amazing paintings, full of life and movement.
It was fascinating to see Darren at work, starting with a plain sheet of paper in just a short space of time a turtle dove had appeared out of the paints – its colours so true to life.
Darren contributed this 'live' painting to the silent auction. Joining a pair of turtle doves and a study of bee-eaters that were already part of the exhibition.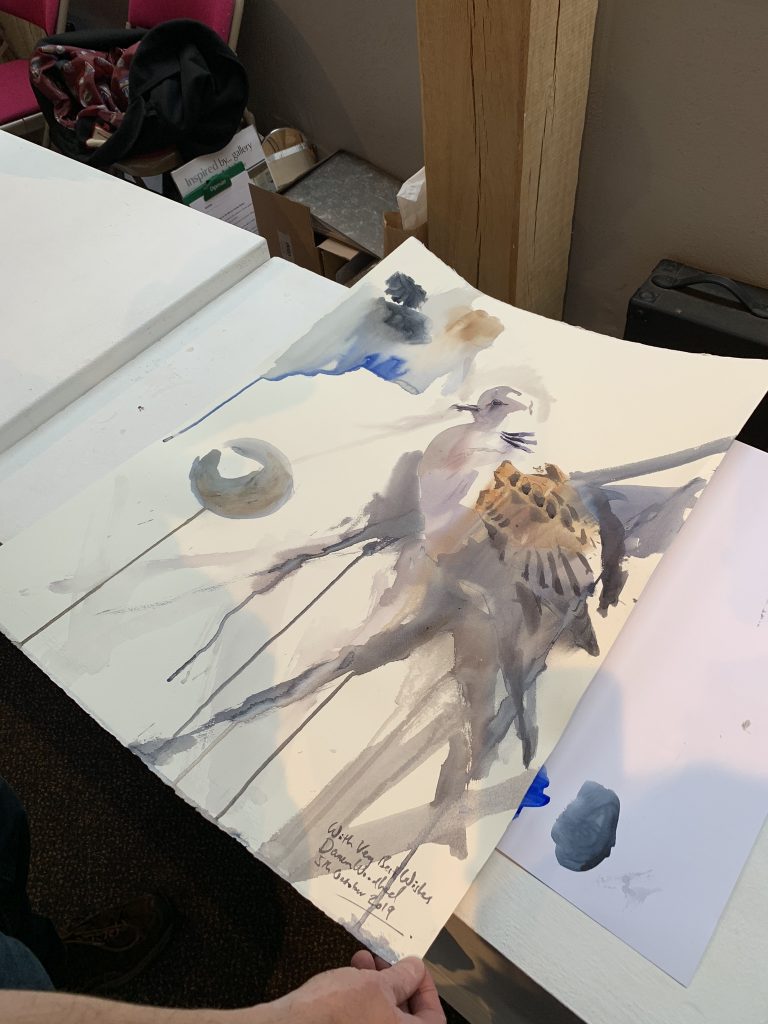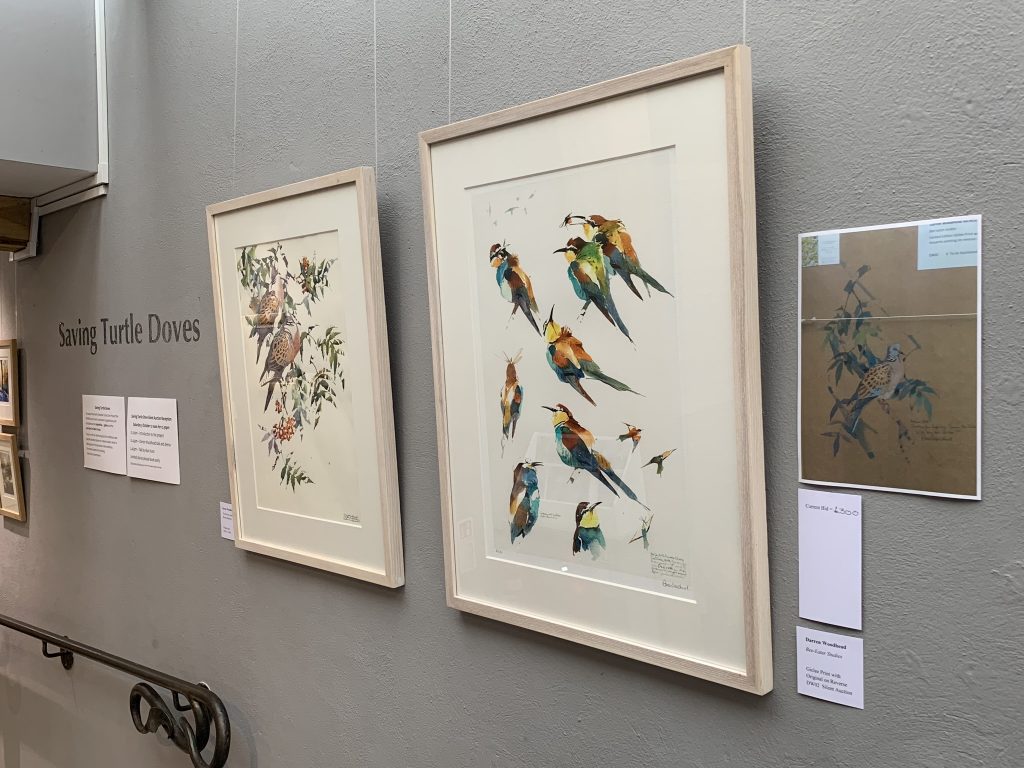 Hearing from a master
Headlining the exhibition was world-famous wildlife artist Alan Hunt. Alan contributed a magnificent painting of a pair of turtle doves and a painting of a male hoopoe at the nest. At the reception Alan spoke of his love of wildlife and how he uses his paintings to support conservation projects, such as the fantastic North Yorkshire Turtle Dove Project.
Inspiring art
It was great to see so much beautiful turtle dove-inspired art on show. From watercolour studies by Jonathan Pomroy to vivid acrylic and spray paint designs by Jo Ruth and many other works besides. The turtle dove is a delicate, charming bird and it was clear to see that the artists had captured the wonder that this species can inspire.